Restaurant / Bar "Blau", Stuttgart
Blau, Stuttgart
A small, whitewashed blue house marks the entrance of the bar strikingly and at the same time reservedly.
Via three steps and a wooden door colored the same as the house, the guest enters an approximately two-square-meter anteroom. Its only light source appears behind a round mirror that is unusually dimensioned for the small room. A deep green velvet curtain noticeably marks another threshold.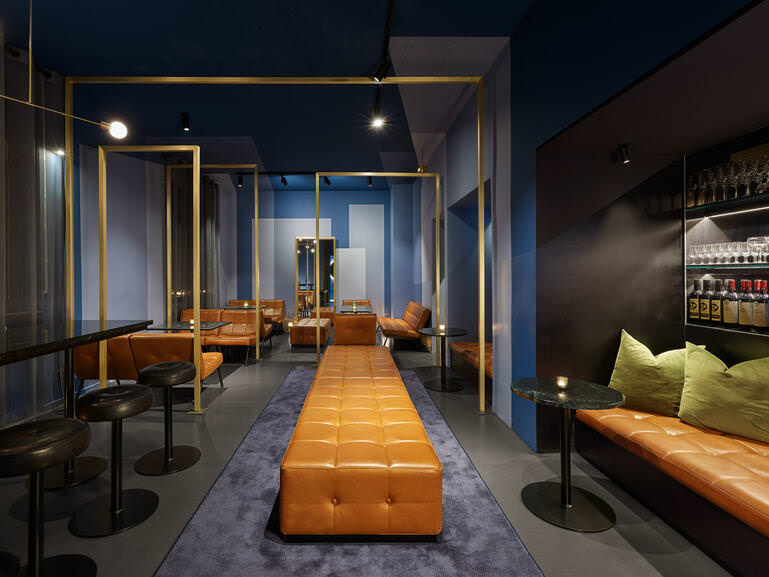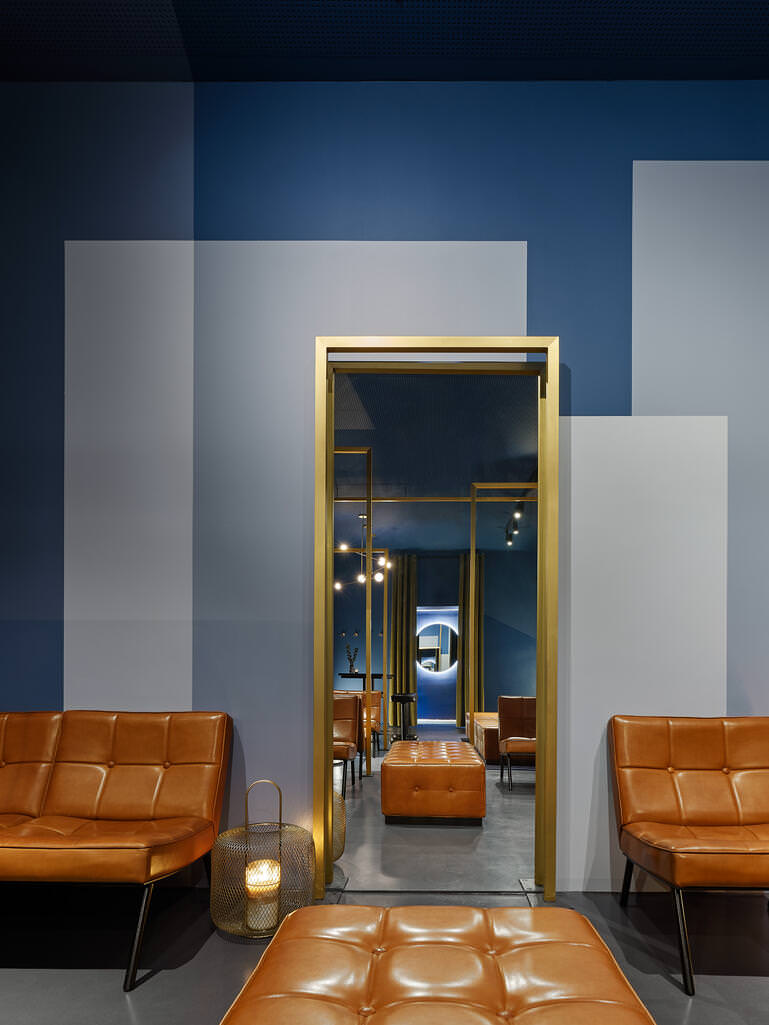 The model for the "setting", which sees itself much more as a built atmosphere than as an architectural space, is the visual language of the painter Caspar David Friedrich - the depiction of natural phenomena, the reality of which exists but is still not tangible. As a bar with a culinary offer, the restaurant wants to be a place to stop - in a figurative sense. A surreal world in the middle of urban reality. A retreat to yourself.
Shades of blue fading in various nuances overlap in areas, dissolve the space, counteract the perspective and play with the guest's perception. Brass-colored frames of different dimensions then seem to structure the room again in a pleasant way. The tables made of high-gloss polished black and green marble take a back seat, while the seating elements, which are homogeneous in natural leather and executed by local craftsmen, form a clear contrast. Your arrangement creates a wide variety of qualities for your stay: from intimate seating niches and spacious seating groups to an open-plan seating area or a half-high bar table as a non-binding place of communication.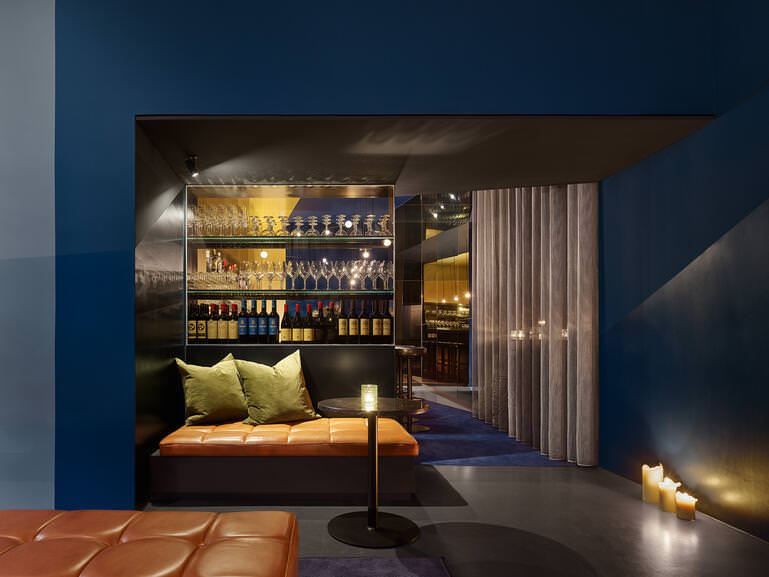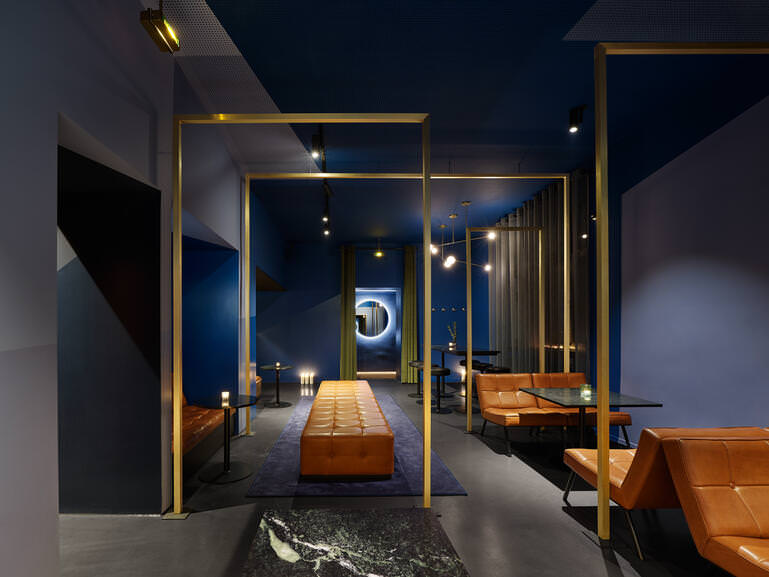 Blue tones fading in various nuances overlap in surfaces, dissolve the space, counteract the perspective and play with the perception of the guest.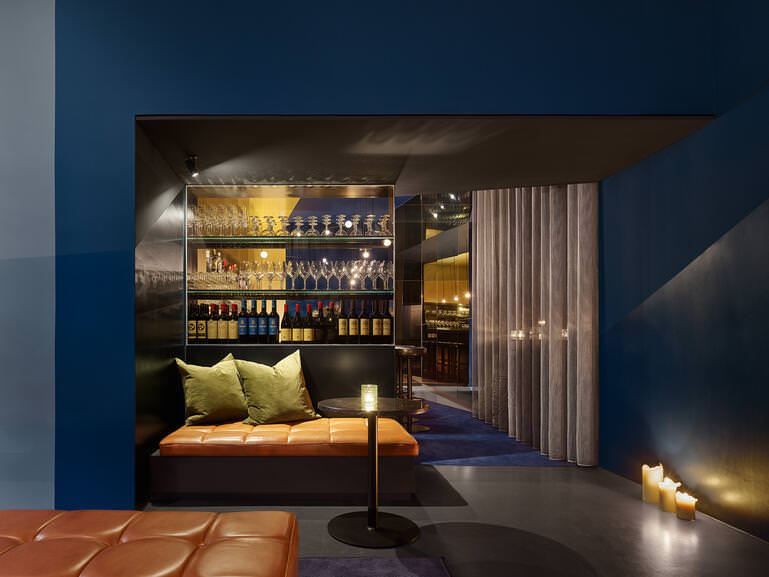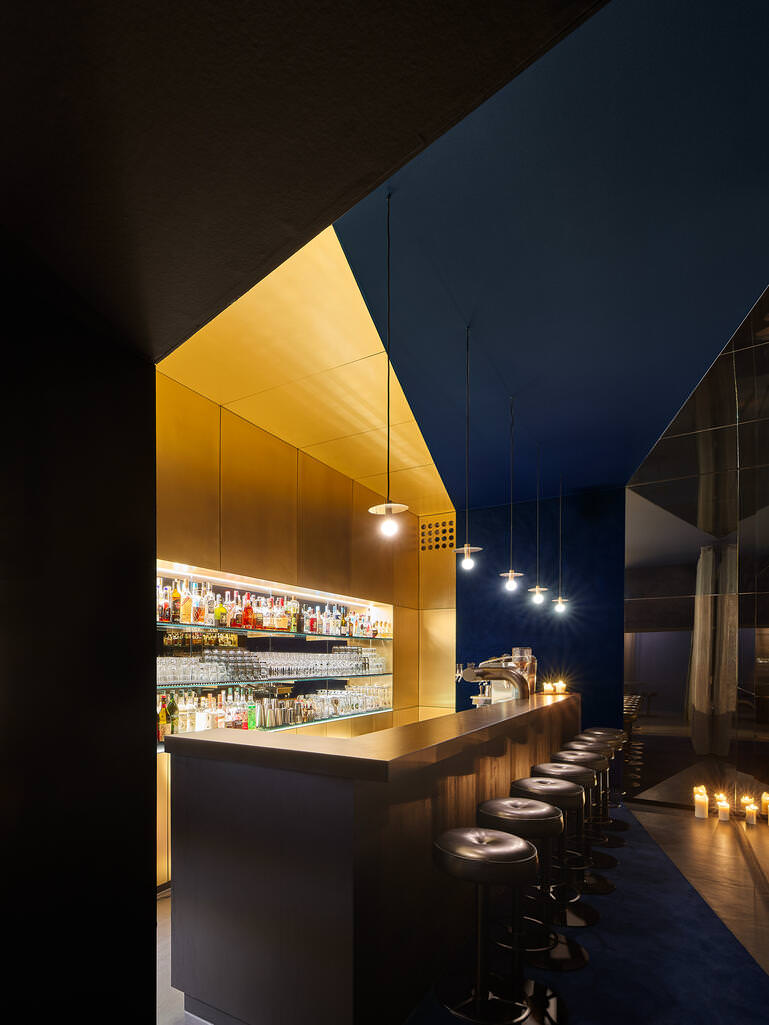 The special lighting situation, which is contrasted by simple white candles behind floor-to-ceiling lattice curtains and the tea lights on the tables, contrasts the otherwise theater-like lighting of the lounge area.

The darker color of the bar area makes it stand out from the endless world of colored surfaces. A carpet that begins on the floor lets the guest feel the access at first more haptically than visually - it invites you into a soft and subdued world - continues on the wall and results in an acoustically effective stretch ceiling. The strongly dimmed light places the focus on the faces of the guests - the warmth and structure of the deep black lacquered wood of the counter remains more noticeable than visible - the guest's eyes are drawn to the bar, which is clad in real brass and partly mirrored, which creates space appears again in the opposite wall made of differently tinted, reflecting glass surfaces.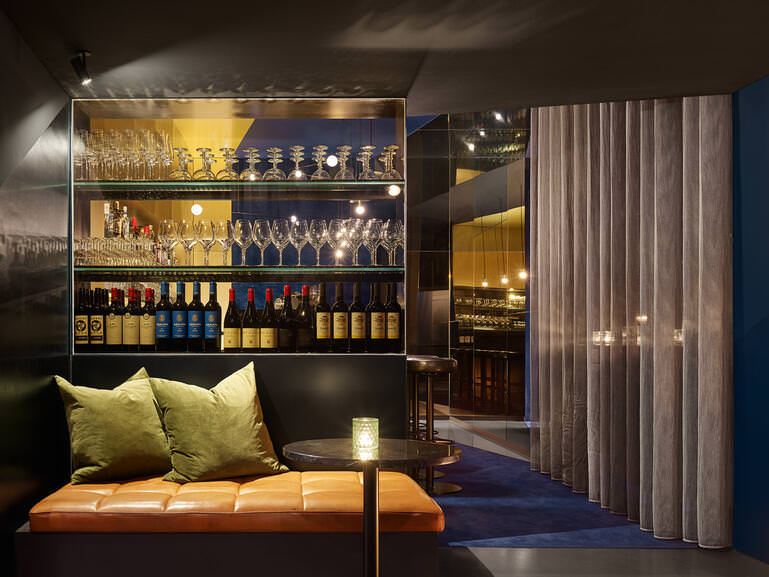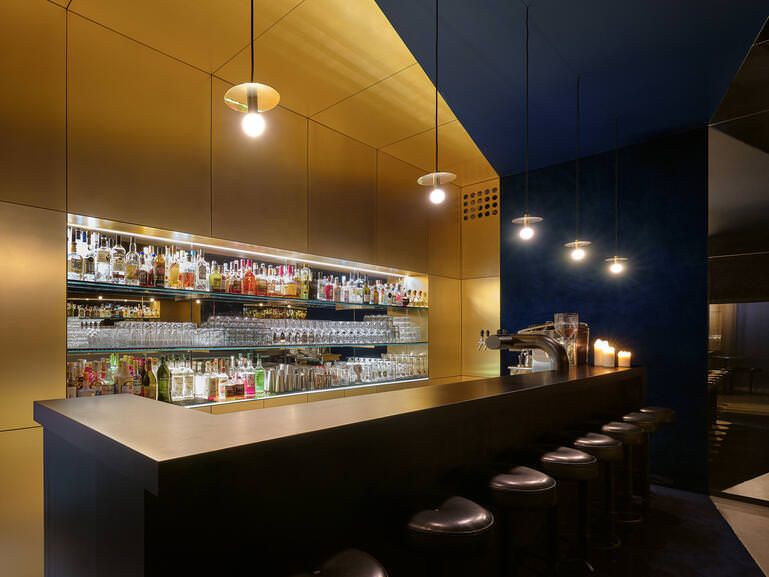 The reduction to a few authentic materials such as leather, brass, wood and the use of haptically and acoustically effective textiles, the coloring of the monochrome, geometrically structured wall surfaces and neutral mirror surfaces create the desired irritation of the perception of the room. An interior is created that negates its own dimension and at the same time extends it.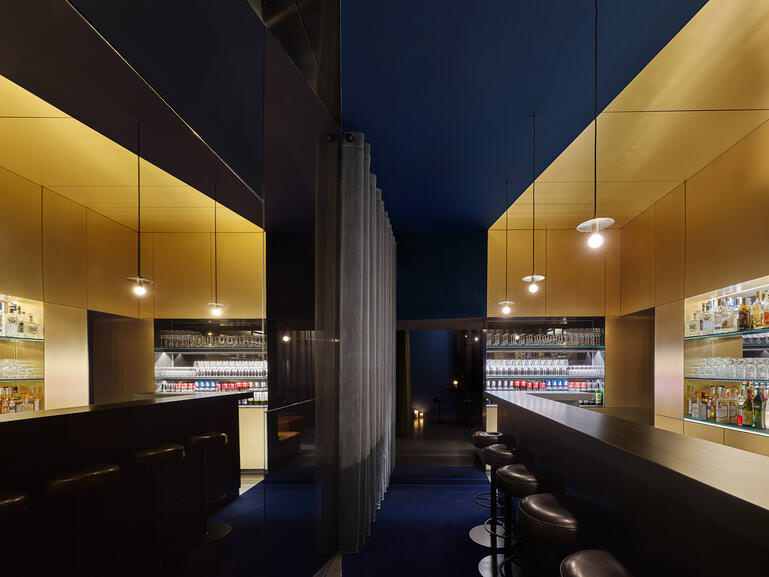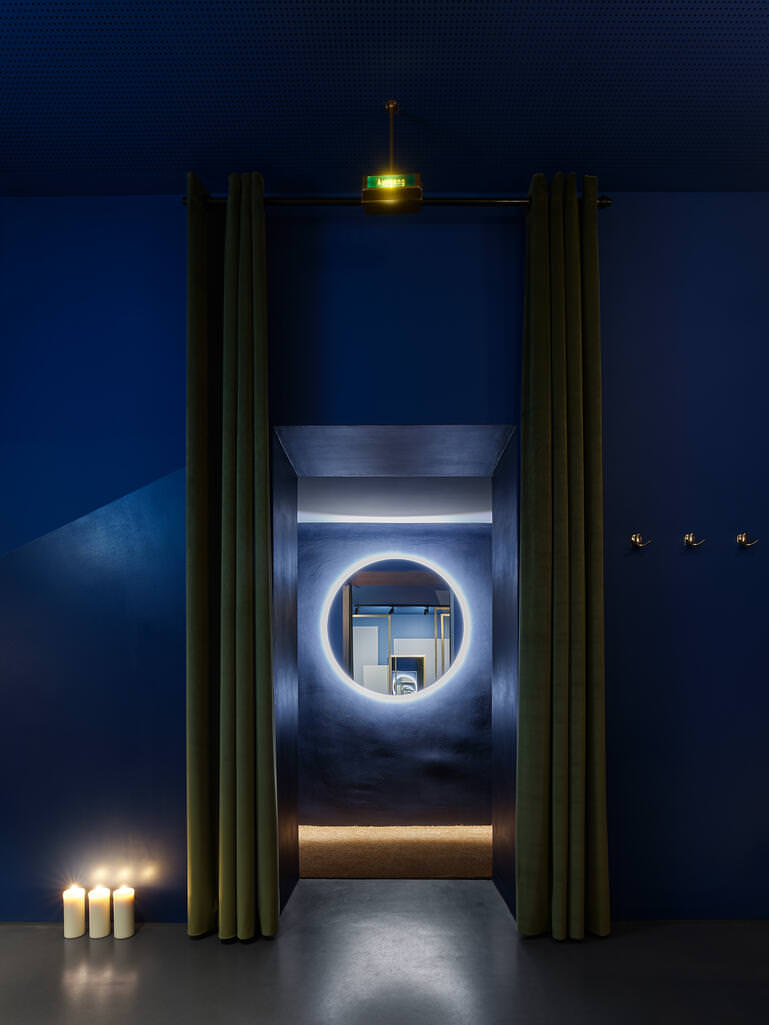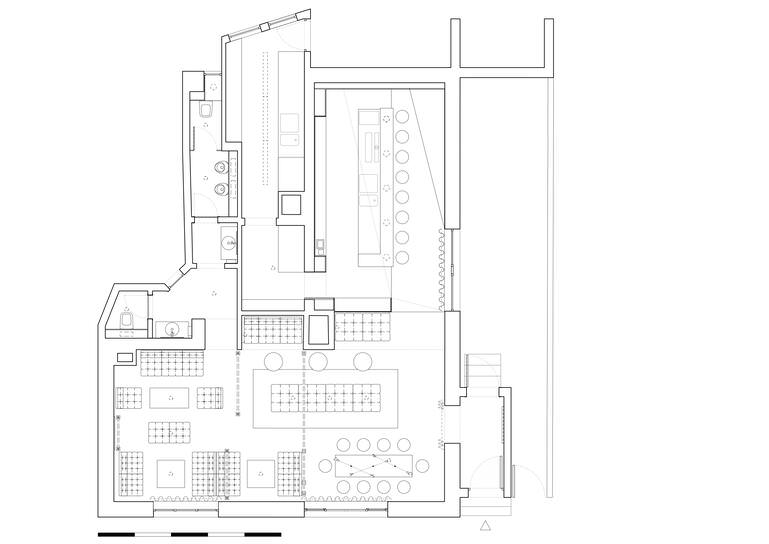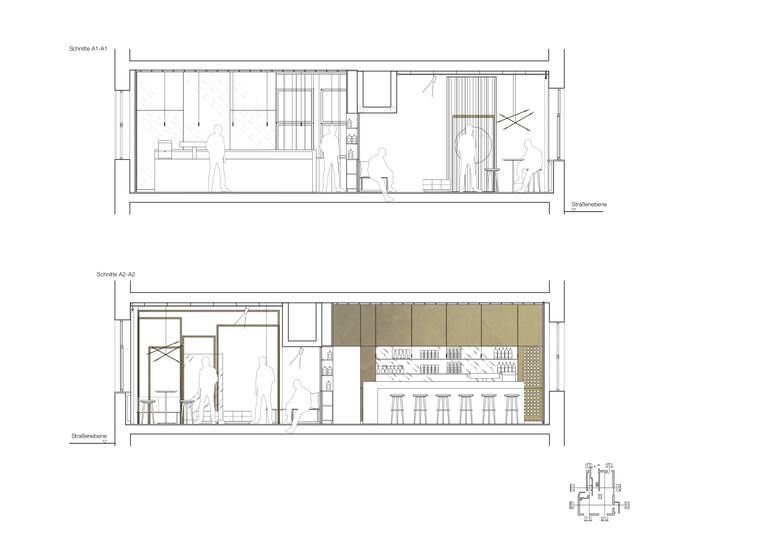 Project information
Location
Stuttgart, Germany
Team
Hadi Tandawardaja
Jure Kozmus
Tobias Bochmann
in Cooperation with
Florian Siegel
Photography
Type of project
direct commission
Completion
Publications
Germany's most beautiful bar is in Stuttgart
Downloads